I would like to thank Negative Ion, my family's mute doctor
I would like to thank Sunny Wu AGM and Connie Chan AM+ for their patience in leading me to the products. I was a disbeliever at first. But after using the full set of Negative Ion products, I was able to lose 6 kilograms in 6 weeks without having to change my diet and exercise habits.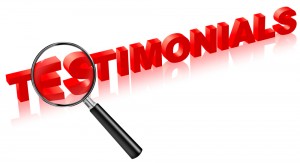 My husband's near-sightedness also improved. His right eye measures 0.75 diopters less and left eye measures 1.25 diopters less. These results are so amazing! Negative Ion products are so great that I couldn't help but share them with my friends and family.
On May 24, 2011, my mother fell unconscious and it created a chaotic situation on my family. Mother was in critical condition, measuring scale 3 on the Glasgow Coma Scale. Within 24 hours, my father has to sign the "Critically Ill Notice Form" for three times.
The doctors diagnosed Mom to be suffering from arteriovenous malformation (AVM) combined with venous angioma (malformation). It was a very rare condition and Mom was in severe danger. The malformation was located very close to the brain stem, so doctors from various renowed medical centers offered the same opinion that it was very hard to perform surgical management. In other words, the doctors could do very little besides monitoring Mom's vital signs in the Intensive Care Unit (ICU).
The doctors kept preparing us for the worst, saying Mom may not survive for the month. Even if she did, there was 95% chance that she would be in vegetative status for the rest of her life. The doctors also said it would take a miracle for Mom to wake up. But even in that circumstance, Mom would have paralysis of her right limbs and would not be able to walk or take care of herself. My family was heart-broken. All the happiness that we had taken for granted was gone.
Nevertheless, I am grateful for everything that happened. As a result, even though the doctors were very pessimistic, I had persisted on using Negative Ion product in ICU for Mom.
Mom was in scale 3 coma for 18 days. On the afternoon of the 18th day, Mother opened her eyes. Her coma scale improved to scale 8! One month later, Mom's vital signs were stable and she was transferred from ICU to the general ward. She stayed in the general ward for 3.5 months. During this period, all the tubes on her body were gradually removed, including Foley's catheter, nasogastric tube, tracheostomy tube, and many intravenous catheters.
She started having rehabilitation therapy. Mom was discharged from the hospital on September 10, 2011. By then, she could eat by herself and walk 200 to 300 meters with the help of a walker! Mom is still taking rehabilitation and the doctors now say it is possible for Mom to recover her mobility to before the onset of coma.
Having gone through these life changes, I'm absolutely convinced by Negative Ion's healing powers. If you haven't experienced Negative Ion products for yourself, you definitely need to invest your time to explore such amazing products!