We need to put on a mask for protection once we leave house due to Corona virus pandemic. As you know, N95 masks are sold out everywhere and they are even rationing them at hospitals. And the regular surgical masks, if you can even get your hands on them, for some people they aren't tight fitting to the face and small particles can easily get in.
Wearing a proper mask is better than not wearing one. Cloth masks do even less. Since an N95 mask (which isn't reusable anyway) is definitely the very next best thing.
Thanks to the 3-layer negative ion mask, it help rid virus particles, bacteria, chemicals, pollution, dust etc.  It sure beats a cloth mask. We do ship worldwide while supplies last which are first come, first serve.
Even better, they're re-usable and currently we engage Singpost to send to as many people's hands as possible.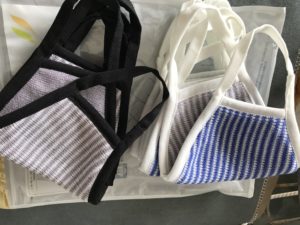 Negative Ion Mask
– Improves Immune System & Maintain Good Health
– Improve Facial & Allergy
– Help Cold, Sinus, Toothache & Allergy
– Reusable, Washable & Effective
– Negative Ion Rid Airborne Bacteria
To order/reserve pm whatsapp Hp: (65) 8182 3325 Jenny Lim
Check with us for availability.