To maximize the effectiveness of negative ion, we have also customized materials made from the Neoron blanket into items like the eskimo hats, eye masks, bra inserts, waist supporters, gloves, ladies blouse, kids clothing, underwear etc.
You can get the materials or scarfs as we have experienced tailors to custom-made into your own design. If you are interested to find out some of the design made by our tailors we are more than happy to forward some pictures to you via whatsapp.
These customized items have been popular not only for their effectiveness but also for warm and comfort wearing them.
Eye Mask
It has a soft touch on the face and the elastic lace band adds comfort in wearing the eye mask.
Teviron eye masks, unlike any ordinary, help you relax and will keep you fall asleep easily when you wear it. It is made with a unique fiber that will generates negative ions, the antioxidant effect, that will make you sleep better.
Eye Mask Benefits:
– Reduces eye bags, help sleep disorder and dark circles
– Helps improve eye sight, intra ocular high pressure and sinus
– Promotes good sleep
Made for All Ages:
– Travelers – put on the eyemask while you travel on the plane
– Moms – for beauty and skincare from rejuvenating tired eyes to reducing facial fine lines and lighten aged spots
– Kids – eye strains from using the handphone and computers. Sleep well for good concentration in class
– Seniors – reduce deterioration of the eyes e.g. glaucoma, weak eye sight, blurred vision etc.
Free size, member price at S$48
AVAILABLE
Soft Waist Support – Material is made from our Teviron Blanket for maximum effect. Ideal for back pains, reduce water retention at stomach areas, kidney, liver, weight loss, constipation, burn tummy fat and protectiing your organs around stomach area.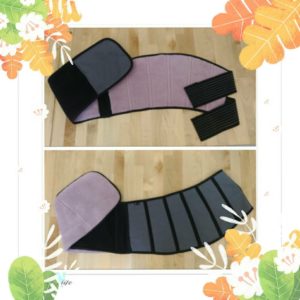 Creative ways to wear:
1.  Wrap it around your waist area
2.  Wrap it around the chest area to relief chest pain
3.  Sling it over the shoulder areas to ease aches and pain
 M,L,XL,2L sizes, price at S$224-S$250
 AVAILABLE
Benefits:
– Keep waist area warm
– Indigestion, constipation
– Back pain
Eskimo Hat – The Eskimo hat shown here are customized item made from 100% Neoron Blanket.
  Benefits:
– Helps Ear Buzzing, Giddiness, Migraine, Headache, Hair Loss
– Helps Improve Brain Metabolism, Loss of Memory
– Promotes Good Sleep, Tinnitus
 Free size, member price at S$204
 AVAILABLE
Bra Pad  –  The material is made from Neoron blanket material. There is only one Free Size available.
  Benefits:
– Firm up sagging breast
– Stimulate breast growth, breast enhancement
– Help blood circulation
  Free size, member price at S$48
 AVAILABLE
Full Hand Glove –  (Image coming soon)
The inner material is made from Neoron shawl material.
  Benefits:
– cold hands & sweaty palms
– eczema of hand
– swollen fingers
– rough hand
– skin rashes
– carpal tunnel syndrome
– pain due to joint pain
– arthritis and rheumatism
– wrist pain
AVAILABLE
Tell Us Your Needs
We Might Have The Perfect Solution For You
Other Customised Items Available
Ladies Panties made from Teviron materials (S, M, L, XL available)
Other Customised Items is available, please contact Jenny Lim hp: (+65) 8182 3325
Pillow Cover assist in activation of brain cell, hair growth, prevention of hair loss, facial beauty.
Face Mask (S$80) Assist in freckles, pimples, facial massage, soften face skin or for better complexion.