Negative Ion Clothing for Everyone.
Experience The Benefits of Negative Ion Clothing -
The Combination of Human Wisdom and High-Technology
If simply wearing clothes could relieve your illnesses so that you could enjoy a better quality of life, would you or loved ones be willing to try this?
Troubled by chronic disease, unknown pain and aches?
Lack of Negative Ion in your body may be the cause of some of these unknown pains and aches.
If you have tried conventional medicines and treatments to ease your pain or illness and still suffer the symptoms, why not try wear Teviron Negative Ion Clothing that has been proven and tested on the market for close to 40 years?
Experience The 4 Special Qualities of Negative Ion Clothing Technology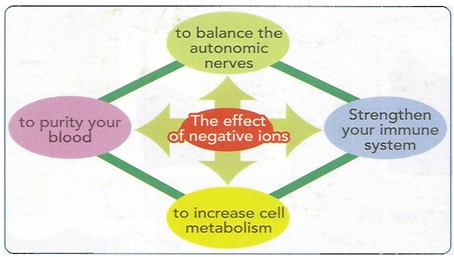 1. Excellent Heat Insulation — Healing Warmth
Many diseases and illnesses are caused by loss of body temperature. People with these conditions need to keep warm all year round. One Teviron Negative Ion garment is as warm as two layered woolen garments or three layered cotton garments. Teviron Negative Ion garments are suitable for all seasons. You can experience the health benefits all year round.
2. Superior Water Permeability
Teviron Negative Ion garments provide superior water permeability. Moisture is removed from the skin and evaporates rapidly. This improves blood circulation and means oxygen and nutrients are efficiently transported to our cells. This causes an acidic body type to become slightly alkaline in nature.
3. Amazing Negative Ions Effect
a. Purifies the blood system, stimulating blood circulation.
b. Increases cell metabolism, causing an increase in cell activity.
c. Enhances the body's immune system so you won't get sick or catch cold easily.
d. Regulates autonomic nerves, enhance your health so you are always in optimal health.
4. Safety
a. There are no negative side effects because Negative Ion Clothing is not a treatment that is orally consumed or injected. The health benefits come from simply wearing the clothing.
b. Negative ion clothing is also a proven and certified fire-retardant product.
Negative Ion Clothing Can Help With The Following Health Problems
Cerebral Palsy

Chronic Fatigue Syndrome

Depression

Diabetes

Epilepsy

Fribromyalgia

Gout

Hearing Loss

Improve Blood Circulation

Infertility

Joint Pains

Kidney Failure

Macular Degeneration

Manic Depression

Migraine

Obesity

Polio

Prostate Enlargement

Sleep Apnea

Snoring

Spondylitis
Why You Should Try Negative Ion Clothing?

According to Asian Medical Journal, if the amount of negative ions in the air is:
1,000 to 2,000 per c.c., it is good for your health.
5,000 to 50,000 per c.c., your resistance to disease is improved and your immune system is strengthened.
100,000 to 500,000 per c.c., improves your body's ability to self-heal and overcome illness.
Your body's largest organ is your skin. We are able to absorb only 15% of the negative ions we breathe in while our skin has 85% efficiency.
By wearing the complete set of Negative Ion Clothing, you will be surrounded by over 100,000 negative ions! Easy…Convenient…Very Effective!!!
Therefore, our bodies can absorb 100% of negative ions if we wear Teviron garments.
A Brief History of Teviron Negative Ion Clothing
Teviron was invented by Teiji, a Japanese company, after 18 years of research. The leading-edge technology used to produce Teviron clothing is complex. Fortunately, through innovative marketing through referrals and positive word of mouth, this clothing is now available to many people in many parts of the world.
We're confident that Negative Ion (Anion) clothing is one of the best, most efficient and least invasive ways to help you and your loved ones improve and maintain good health.
Additional Reasons You Must Try Teviron Negative Ion Clothes
- It Keeps You Warm
Teviron is a material that is great at heat insulation. Why do we wear clothes? We wear clothes to stay warm and we layer as necessary to keep our body temperature constant. Teviron, in comparison to some of the more common fibers such as wool or cotton, excels in keeping our body temperature at the 98.6ºF (37ºC) so that it doesn't fluctuate with the changes in our environment. This is very important in keeping us warm and preventing ourselves from getting sick.
- It Keeps You Dry
Superior water permeability allows moisture to be wicked away from the body, which quickly evaporated, will help keep one dry and comfortable. Teviron is a material that does not absorb ANY moisture. In other words, o% liquid absorption.
Without this type of technology, one's skin will remain feeling wet, which can increase the feeling of being cold. This also causes the constriction of one's blood vessels and will restrict the nutrients and oxygen being sent to the cells of the body.
- It Keeps You Safe
Teviron is recognized by the Japanese Fire Retardant Association as a fire retardant product simply because it DOESN'T burn easily. It has a very high burning temperature which is measured by LOI (Limited Oxygen Index). A person was reportedly able to escape a burning home in Japan by covering herself with a Teviron blanket (with Teviron on the outside) as she dashed out of the house.
- It Keeps You Healthy with Negative Ions
Teviron generates negative ions that benefit your body.
Choose From A Variety of Negative Ion Products
The blanket and flat sheet are the best product in terms of the amount of negative ions generated. The human body restores itself during sleep. When the body is surrounded by negative ions in this crucial period of rest, cell rejuvenation would be increased. As a simple example, individuals suffering from insomnia have seen great relief after sleeping in the negative ion blankets.
ThermoWear
Thermowear is the best product for clothing lines because of its thermal properties and generates a high amount of negative ions. Layering on top of the undergarments will increase negative ion absorptions throughout the body. This is highly recommended for people with chronic health conditions as it provides a full body coverage.
Negative ion undergarments are key to keeping your vital organs healthy. If you wear a top (t-shirt, tank, or camisole) and a bottom (underwear or panties/briefs), you are covered in the core sections of your body.
Supporters are great at keeping the joints flexible. For those with chronic arthritis, gout pain in the knees, the elbows, the ankles or the wrists, these can greatly alleviate the pain by increase blood flow to the area and also neutralize the harmful effects of acids that have collected at the joints that cause these pains.
The Negative ion socks increase blood flow to the feet to reduce swelling and any feet related conditions. Accessories like the scarves, the hats, and the wrist bands all provide warmth and added negative ion treatment to the throat, the head and anywhere else you can wrap these around.
What makes negative ion clothing valuable is the Teviron fiber that's used to create the garments. The way the fiber is woven into the blanket and sheet also creates the strongest amount of negative ions. Therefore, to increase the effectiveness on the body, often, the blankets and the sheets can be customized and sewn into different product such as eye masks, neck warmers, bra inserts, face masks, waist support and hats. There is even small finger wraps that works great on those nagging joint pains in the fingers!
Customized products help deliver a powerful negative ioin environment around you!
How Does it Feel to Wear Teviron Negative Ion Clothing?
Healthy people may not experience any discomfort. Some people will have an "improvement reaction" when they wear Teviron clothes. People who are half-healthy might experience discomfort, because the negative ion clothing and blankets will detoxify the body back to its normal state. One might experience red and swollen skin, warming, ticklish, diarrhea, dizzy, tired, sore muscles, and so on. These are sign of recovery so you should be happy about it.
These reactions are not a side effect and you should not panic. Toxins need to come out so the cells can regenerate back to its healthy state. Don't worry and keep wearing it and once it disappears, you feel pleasant, energetic and gain back your strength. Then you can recreate a healthy body.
Users of Teviron garment experience health improvement by trying the undergarment, supporters and teviron blanket.
Take Action Now to Ensure Your Good Health
If you have chronic conditions and have tried all means to get better, why not try something that has been market tested for 55 years?
Prevention is ALWAYS better than cure. Negative Ion Clothing, has been and will continue to be, an effective alternative to improve and maintain a good health. Through the four(4) major benefits of negative ions your health may be improved. You simply change the clothes you wear, see it work for you and your loved ones.
So don't hesitate! Take the first step to try out the various selection of undergarments, socks and accessories, thermowears, beddings, etc from kids to adult; you'll be making an investment on your health and those of your loved ones.
Get more information

Call Independent Distributor Jenny Lim h/p:(+65) 8182 3325 or contact via contact form.
Important: The products here on this site are not meant to be a substitute for professional medical or psychiatric treatment, and are not intended to diagnose, treat, cure or prevent disease.

When in doubt or if you notice any negative effect you should always consult with your own professional health care provider.

We do not claim that Negative Ion products will cure your medical condition, but people have reported amazing health-enhancing effects. We have heard of many testimonials but we don't guarantee that the information on this website is correct at the time, and we reserve all rights to change any content at any time without any notice.
Please Spread The Word
If you found this article helpful please click on ANY of the sharing buttons below and help others too. We would really appreciate it. Thank you!